ANALISIS PENGARUH FAKTOR KEPUTUSAN PEMBELIAN DENGAN STRUCTURAL EQUATION MODELING PARTIAL LEAST SQUARE
Keywords:
Produk, Partial least square, lokasi, Keputusan Pembelian
Abstract
The purpose of this paper is to idendify the factors affecting consumers' purchase decision making at Angkringan  in Balikpapan. Data were collected by distributing questionnaires to 177Balikpapan consumes who were actively buying  food of angkringan. The data were analyzed using  the partial least squares structural equation model (PLS-SEM) and multi group analysis (MGA) in SMARTPLS software.. The results show that the product and location have an impact on purchasing decisions. This study illustrates that the determination of product and location are important factors that need to be considered to increase sales due to increased purchasing decisions by consumers. The purchase decision considers the convenience and location that is suitable for buyers to come to the place of business, ease of access and becomes a determinant for buyers and influences buyers' decisions. Suggestions from this study that paying attention to location and product quality will increase purchases.
References
Arifka, N. (2021). Penerapan Strategi Bauran Pemasaran 7P dalam Meningkatkan Penjualan (Studi Kasus Pada Sambel Layah Arcawinangun). Tesis, IAIN Purwokerto, 1–129. http://repository.iainpurwokerto.ac.id/9468/
Buchari, A. (2016). Manajemen Pemasaran dan Pemasaran Jasa. CV. Alfabeta.
Dewi, Citra, Zuria Mohaidin, Mohsen Ali Murshid, 2019, Determinants of online purchase intention: a PLS-SEM approach: evidence from Indonesia, Journal of Asia Business Studies
Firmansyah, M. A. (2019). Pemasaran jasa (Strategi, Mengukur Kepuasan, dan Loyalitas
Pelangan). March.
Kotler, P & Keller, K. L. (2012). Manajemen Pemasaran (12 th ed). Erlangga.
Kotler dan Amstrong. (2016). Principles Of Marketing Sixteen Edition (Global Edi). pearson
Education Limited.
Kotler dan Kevin Lane Keller. (2016). Marketing Managemen (ke-15). pearson Education, inc.
Kotler, P. & A. G. (2012). Prinsip-Prinsip Manajemen (13 jilid I). Erlangga.
Kotler, P. and K. L. K. (2016). Marketing Management (15th ed.). Person Education, Inc. Kotler, P., & Armstrong, G. (2016). Prinsip-Prinsip Pemasaran. Jilid 1 dan 2 (12th ed.).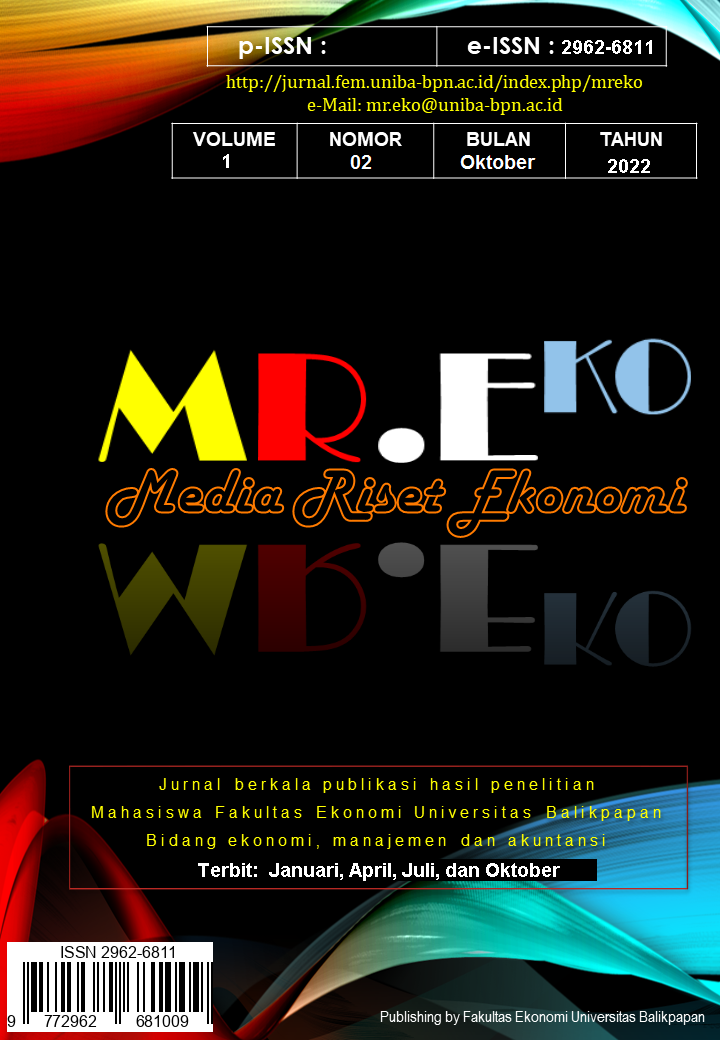 Downloads
How to Cite
Sukimin, S., Fidriani, E. ., Miswaty, M., & Juwari, J. (2022). ANALISIS PENGARUH FAKTOR KEPUTUSAN PEMBELIAN DENGAN STRUCTURAL EQUATION MODELING PARTIAL LEAST SQUARE . MEDIA RISET EKONOMI [MR.EKO], 1(2), 62–70. https://doi.org/10.36277/mreko.v1i2.227