ANALISIS RETURN SAHAM PERUSAHAAN PERBANKAN DI BURSA EFEK INDONESIA
Keywords:
EPS, BOPO, LDR, NPL, Stock returns
Abstract
The capital market has a role as a means of investing for the public to gain a return. The return expected by investors from investing can be in the form of capital gains/losses or dividends. In the 2015 - 2019 period, although in 2019 the return  increased year on year (YoY), it experienced a decline in 2017 – 2018. This uncertainty in the value of stock returns is not in line with the expectations of investors who want their stock returns to continue to move up. The purpose of this study was to determine whether Earning Per Share (EPS), Operating Costs of Operating Income (BOPO), Loan to Deposit Ratio (LDR) and Non Performing Loans (NPL) can contribute to the Stock Return of Banking Sector Companies listed on the Stock Exchange. Indonesia. The sample in this study is banking companies that have been listed on the Indonesia Stock Exchange for the 2015-2019 period using quantitative data types. The data analysis technique in this study used Multiple Regression Analysis, Normality Test, Classical Assumption Test and Hypothesis Testing. The results indicate that: (1) EPS can contribute to Stock Return, (2) BOPO can contribute to Stock Return, (3) LDR can contribute to Stock Return, while (4) NPL cannot contribute to Stock Return. 
Downloads
Download data is not yet available.
References
Asna, & Graha, A.N. (2006). Analisis Pengaruh Rasio Keuangan Terhadap Return Saham Perbankan Yang Terdaftar Di Bursa Efek Jakarta. Retrieved fromhttp://ejournal.unikama.ac.id/
Asri, M. H. (2017). Analisis Rasio Dengan Variabel EPS (Earning Per Share),ROA (Return On Assets), ROE (Return On Equity), BOPO (BiayaOperasional Pendapatan Operasional) Terhadap Harga Saham Perusahaan Perbankan. Retrieved from https://ejournal.gunadarma.ac.id/index.php/ekbis/article/view/1760
Ayem, S. (2017). Pengaruh Loan To Deposit Ratio, Capital Adequacy Ratio, Return On Asset Dan Non Perfoming LoanTerhadap Return Saham. Retrieved from Jurnalfe.ustjogja.ac.id
Darmadji, T.,& Fakhrudin. (2006). Pasar Modal di Indonesia Pendekatan Tanya Jawab.Jakarta: Salemba Empat.
Djajadi, L.S., & Yasa, G. W. (2018). Analisis Pengaruh Earning Per Share, Debt To Equity Ratio, Growth, dan RisikoSistematis pada Return Saham. Retrieved from https://doi.org/10.24843/EJA.2018.v23.i01.p04
Hery. (2015). Analisis Laporan Keuangan Pendekatan Rasio Keuangan. Yogyakarta: CAPS (Center for Academic Publishing Service).
Husna, N. (2016). Analisis Pengaruh Kinerja Keuangan Terhadap Harga SahamPada Perusahaan Perbankan. Retrieved from https://www.neliti.com/publications
Isnaeni, R. (2016). Pengaruh Camels Terhadap Return Saham Pada Industri Perbankan Di Bursa Efek Indonesia. Retrieved from http://repository.umy.ac.id/handle/123456789/5731
Jaworski, W.L., Zawadzka, Z. (2006). Bankowosc. Podrecznik Akademicki. Warszawa : Poltext.
Kasmir. (2008). Analisis Laporan Keuangan. Depok: PT Rajagrafindo Persada.
Kurniadi, D. (2013). Pengaruh Tingkat Kesehatan Bank Terhadap Return Saham DiBursa Efek Indonesia (BEI). Retrieved from http://publikasi.mercubuana.ac.id/index.php/Jurnal_Mix/article/view/98
Muhammad, N. K. (2015). Pengaruh CAR, NPL, dan BOPO Terhadap Profitabilitas Dan Return Saham PadaBank-Bank Yang Terdaftar Di BEI Tahun 2009-2013. Retrieved from https://media.neliti.com/media/publications/163331-ID-none.pdf
Muljono, T. P. (1999). Analisa Laporan Keuangan Untuk Perbankan,Revisi 1999. Jakarta : Djambatan.
Puspitaningtyas, Z.,& Kurniawan, A.W. (2012).Prediksi Tingkat Pengembalian Investasi Berupa Devidend Yield Berdasarkan Analisis Financial Ratio. MajalahEKONOMI: Telaah Manajemen, Akuntansi dan Bisnis, Vol. 16.
Rosita, P., Harjum, M., & Mulyo, H. (2016). Analisis Pengaruh Tingkat Kesehatan Bank Dengan Metode Camels Terhadap Return Saham (Studi Kasus Pada Bank Listed Di BEI Periode 2008-2014). Retrieved from http://eprints.undip.ac.id/48787/
Santoso, S. (2013). Statistika Ekonomi Plus Aplikasi SPSS. Ponorogo : Umpo Press.
Sugiyono. (2016). MetodePenelitian Kuantitatif, Kualitatif dan R&D. Bandung: PT Alfabet.
www.bi.go.id
www.ojk.go.id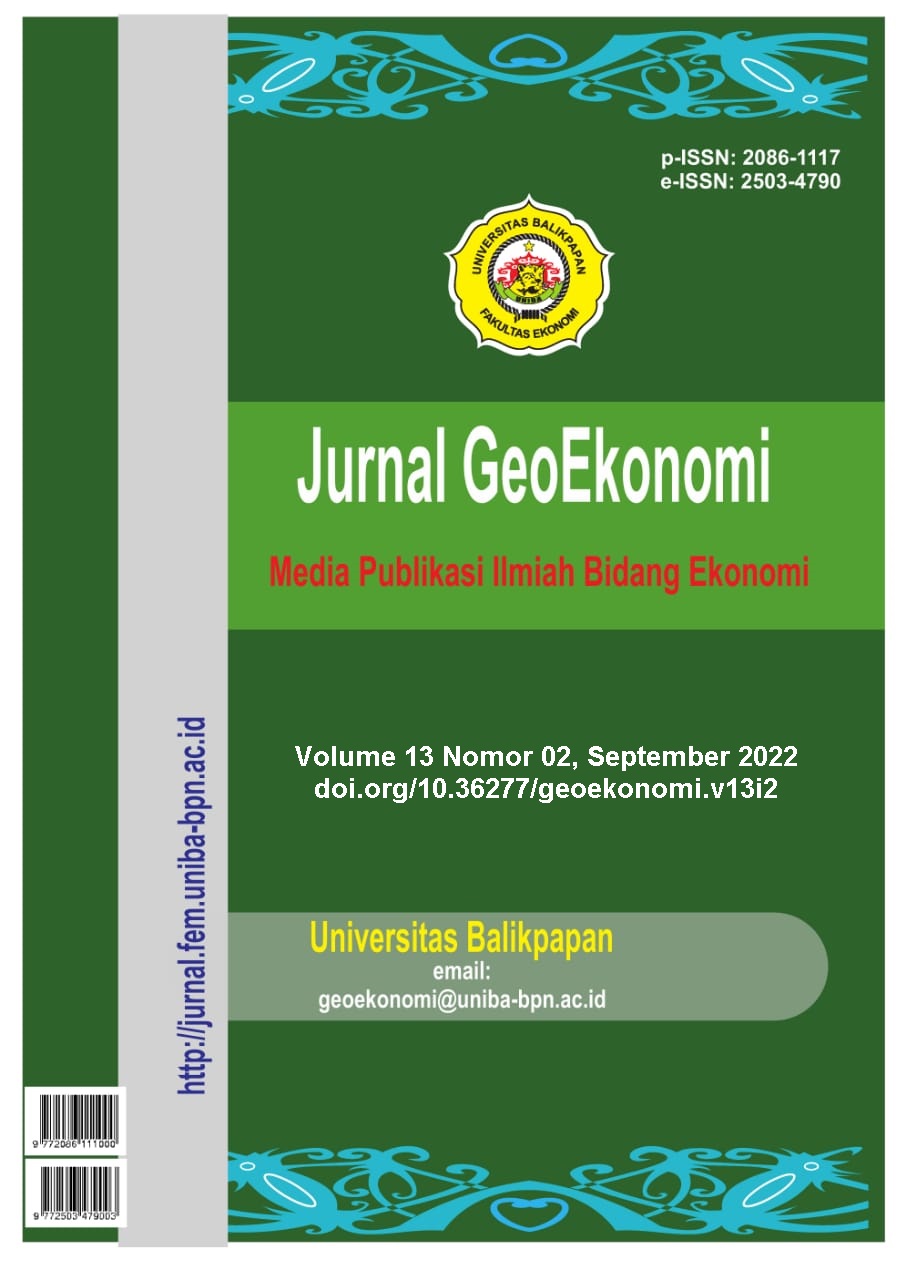 Downloads
How to Cite
Nurmawan, F., & Ichsanuddin Nur, D. (2022). ANALISIS RETURN SAHAM PERUSAHAAN PERBANKAN DI BURSA EFEK INDONESIA. Jurnal GeoEkonomi, 13(2), 245–254. https://doi.org/10.36277/geoekonomi.v13i2.188
License
 Lisensi Creative Commons Atribusi 4.0 Internasional