PENINGKATAN KETERAMPILAN IBU-IBU POS YANDU MAWAR MERAH RT 50 KELURAHAN MANGGAR: PELATIHAN PEMBUATAN KUE TAKOYAKI BERNILAI EKONOMI
Abstract
The training on making Takoyaki cakes was warmly welcomed by the participants, mostly housewives who are members of the RT 50 Mawar Merah Yandu Post in Manggar Village. This training activity aims to improve the skills of participants in making Takoyaki cakes. Takoyaki cakes are nutritious and have economic value. It is easy to make and the ingredients are easily available in supermarkets. With effective discussion and hands-on practice, participants were able to make Takoyaki cake with a brownish yellow color that was nutritious and delicious. If the ability of these participants continues to become entrepreneurs, of course, they can increase additional family income. This training activity has succeeded in increasing skills and understanding that Takoyaki cake can be an alternative to additional business.
Downloads
Download data is not yet available.
References
Bohari, B., Rahman, N., Ariani, A., & Pradana, F. (2020). Pelatihan Pembuatan Olahan Aneka Kue Berbasis Umbi-Umbian Di Kelurahan Lambara Kota Palu. Jurnal Dedikatif Kesehatan Masyarakat, 1(1), 31–36.
Fathihah, L., & Yusuf, A. (2018). Pelatihan Pembuatan Kue dalam Rangka Membentuk Wirausaha Perempuan di PKBM Latansa Desa Soko Kecamatan Glagah Kabupaten Lamongan. Jurnal JPLS, 1–7.
Febriyanti, S. A., & Windirah, N. (2021). Pelatihan Pembuatan Keripik Bayam Sebagai Alternatif Usaha Rumah Tangga. Tribute: Journal of Community Services, 2(2), 78–84. https://doi.org/10.33369/tribute.v2i2.18539
Lastuti, S., & Anisah. (2018). Pemberdayaan Ibu-Ibu Penerima Bantuan Program Keluarga Harapan (Pkh) Di Desa Naru Timur Untuk Meningkatkan Kesejahteraan Keluarga Melalui Pelatihan Dan Pendampingan Pembuatan Kue Tradisional Bima. Jurnal Pendidikan Dan Pengabdian Masyarakat, 1(2), 253–258.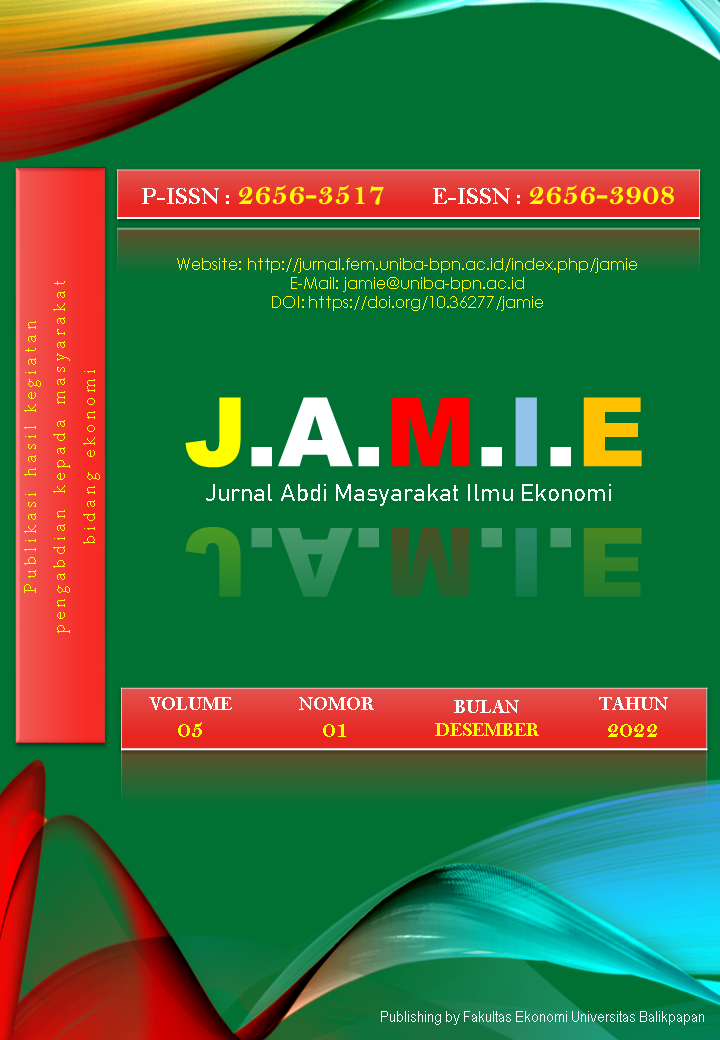 Downloads
How to Cite
Ariani, M. ., yuliani, T., Ariwibowo, I., & Tamara, D. (2022). PENINGKATAN KETERAMPILAN IBU-IBU POS YANDU MAWAR MERAH RT 50 KELURAHAN MANGGAR: PELATIHAN PEMBUATAN KUE TAKOYAKI BERNILAI EKONOMI. Jurnal Abdi Masyarakat Ilmu Ekonomi (JAMIE), 5(1), 1–10. https://doi.org/10.36277/jamie.v5i1.222
License
Copyright (c) 2022 Jurnal Abdi Masyarakat Ilmu Ekonomi (JAMIE)
This work is licensed under a Creative Commons Attribution-ShareAlike 4.0 International License.