MENUMBUHKEMBANGKAN EKONOMI KREATIF DALAM UPAYA MENINGKATKAN WISATA DAERAH DI DESA KEDANG IPIL
Keywords:
wisata, sumberdaya, desa mitra, pemberdayaan masyarakat
Abstract
Kedang Ipil Village is one of the villages in Kota Bangun Subdistrict, Kutai Kartanegara Regency, East Kalimantan Province which has regional tourism potential which still needs tourism development to increase regional income. The problem is the readiness of the village community to accept tourists or tourists from inside and outside the country so that they need to prepare Human Resources to support tourism activities. The trick is to provide management training so that they can manage tourist attractions and improve the quality of human resources. The ability to allocate and utilize these resources will be largely determined by the capacity and availability of resources referred to in other words, inventory (in quantitative aspects) and quality of resources (in qualitative aspects) which includes the quality of human resources, natural resources, social resources, and renewable resources. A partner village is a form of concern for the academic field with the regions that can be developed to be able to increase the potential in partner village areas. This program is a form of concern for the situation and life of people at the village level which actually has various potentials through nature tourism, cultural tourism, and creative economy, cannot be managed and developed, due to lack of resources and capacity building. Expected output in community assistance has the ability to manage every product produced and the development of centres in the village community, as well as the establishment of a tourism program in the village of Kedang Ipil.
Downloads
Download data is not yet available.
References
Erhamsyah, E. (Sekretaris D. K. I. (2018). Daftar Isian Potensi Desa dan Kelurahan.
Idris, M. (UIN S. K. Y., & Abror, I. (UIN S. K. Y. (2008). Desa Mitra Kerja UIN Sunan Kalijaga dalam Upaya Pemberdayaan Masyarakat Berbasis Integrasi-Interkoneksi. Jurnal Penelitian Agama, XVII(3), 669–686.
Junaidi, J. (Universitas J., & Zulgani, Z. (Universitas J. (2011). Peranan Sumberdaya Ekonomi dalam Pembangunan Ekonomi Daerah. Pembangunan Daerah Edisi III, 0(0), 27–33.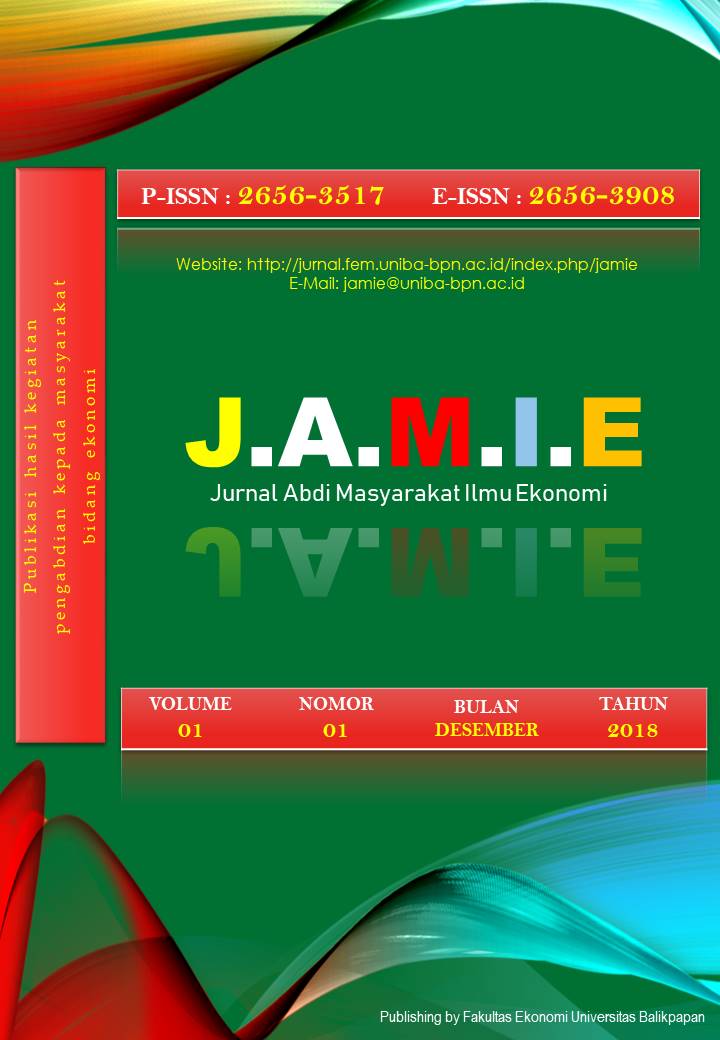 Downloads
How to Cite
Hadiyatno, D., Ernayani, R., & Indriastuty, N. (2018). MENUMBUHKEMBANGKAN EKONOMI KREATIF DALAM UPAYA MENINGKATKAN WISATA DAERAH DI DESA KEDANG IPIL. Jurnal Abdi Masyarakat Ilmu Ekonomi (JAMIE), 1(01), Pages 6–14. https://doi.org/10.36277/jamie.v1i01.36