PENINGKATAN UMKM MELALUI SOSIALISASI LAPORAN KEUANGAN SEDERHANA DI KELURAHAN DAMAI BARU KECAMATAN BALIKPAPAN SELATAN
Keywords:
UMKM, Simple Financial Reports
Abstract
This community service activity is entitled Improvement of UMKM through the dissemination of simple financial reports in Damai Baru Sub-District, South Balikpapan District. The purpose of this service is to socialize the importance of simple financial reports for small and micro medium entrepreneurs. From the results of socialization and mentoring in making simple financial reports can facilitate UMKM actors in distinguishing between capital and profits, can know the extent to which the business development and can classify capital and income to know where and where the money is spinning. In addition, business people also understand more about investment and how to compete in a healthy manner with fellow business people in the Damai Baru sub-district, South Balikpapan District. 
Downloads
Download data is not yet available.
References
Hidayat, Iman Pirman dan Adi Ridwan Fadillah, Pengaruh Penyaluran Kredit Usaha Mikro Kecil Menengah (UMKM) Dan Pendapatan Operasional Terhadap Laba Operasional (Kasus Pada PT.Bank Jabar Banten Tbk), Jurnal Dipublikasikan Pada Digital Library Fakultas Ekonomi Jurusan Akuntansi Universitas Siliwangi, http://imanph.files.wordpress.com/2011/10/imanumkm-bjb.pdf
Haryadi. (2010). "Permasalahan Usaha Mikro di Indonesia". Undip Semarang
Sudjinan, S., & Juwari, J. (2018). PEMBERDAYAAN POTENSI MASYARAKAT MELALUI PENDAMPINGAN UMKM DAN KOPERASI DI KELURAHAN TELAGA SARI KOTA BALIKPAPAN. Jurnal Abdi Masyarakat Ilmu Ekonomi [J.A.M.I.E.], 1(01), Pages 40-49. Retrieved from http://jurnal.fem.uniba-bpn.ac.id/index.php/JAMIE/article/view/32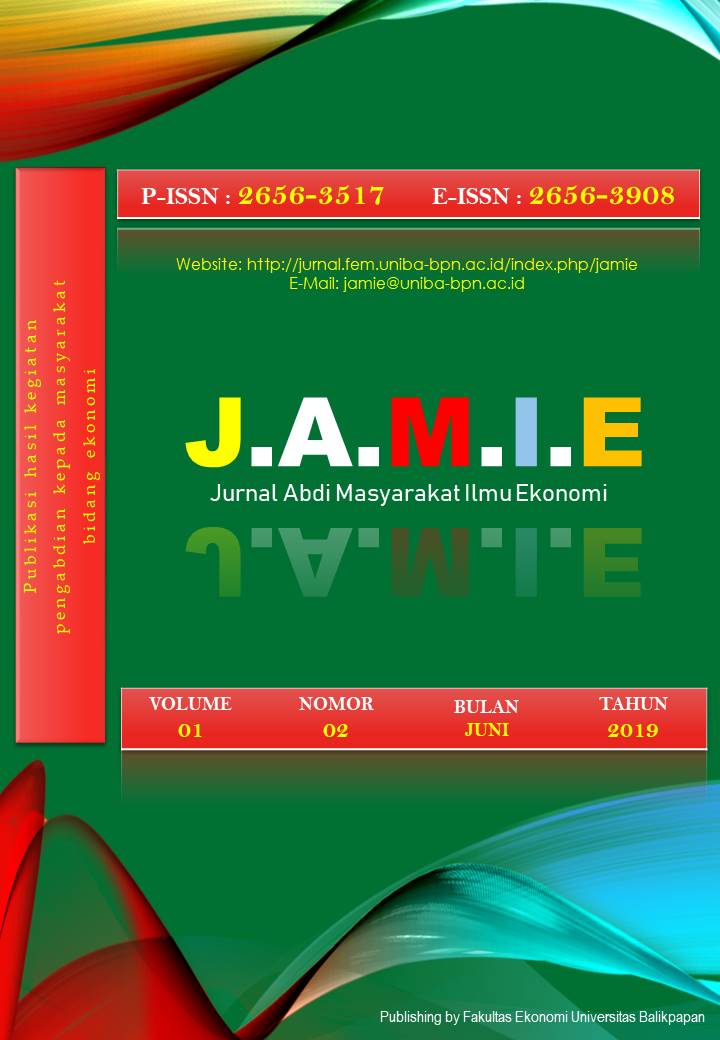 Downloads
How to Cite
Abdiannur, A., & sudjinan, sudjinan. (2019). PENINGKATAN UMKM MELALUI SOSIALISASI LAPORAN KEUANGAN SEDERHANA DI KELURAHAN DAMAI BARU KECAMATAN BALIKPAPAN SELATAN. Jurnal Abdi Masyarakat Ilmu Ekonomi (JAMIE), 1(2), 60–69. https://doi.org/10.36277/jamie.v1i2.40