PENGARUH INFLASI, KURS, DAN HARGA MINYAK MENTAH DUNIA TERHADAP INDEKS HARGA SAHAM GABUNGAN
Keywords:
Inflasi, Kurs, Harga Minyak Mentah Dunia, Indeks Harga Saham Gabungan
Abstract
The purpose of this study was to determine the effect of Placement, Job Training and Motivationon the Moraleof the Employees of PT. ASDP Indonesia Ferry (Persero) in Balikpapan.The population in this study were permanent employees as much as 222 respondents.By using random sampling techniques so  the sample that  is in  use as much as 111respondents.Data collection techniques are observation, interviews and questionnaires.The data analysis technique used is Multiple Linear Regression using
program SPSS v22.
The  results  showed  Placement,  Job  Training  and  Motivationsimultaneously affect the Morale of employees PT. ASDP Indonesia Ferry (Persero)in Balikpapan. Motivationpartially hadsignificant influence and dominant to the morale of employees of PT. ASDP Indoensia Ferry (Persero) in Balikpapan.
References
Boyes, W., & Melvin, M. 2011. Macroeconomics, 8th Edition. Mason: South-Western Cengage Learning.
Irham Fahmi. 2018. Manajemen Investasi Edisi 2 Teori dan Soal Jawab. Jakarta: Salemba Empat.
Iskandar Putong. 2013. ECONOMICS Pengantar Mikro dan Makro Edisi 5. Jakarta: Mitra Wacana Media.
Organization of the Petroleum Exporting Countries. 2013. I Need To Know An Introduction To The Oil Industry & OPEC. Vienna: Ueberreuter Print GmbH
Sugiyono, 2013. Metode Penelitian Kuantatif Kualatif Dan R&D. Bandung : Alfabera, CV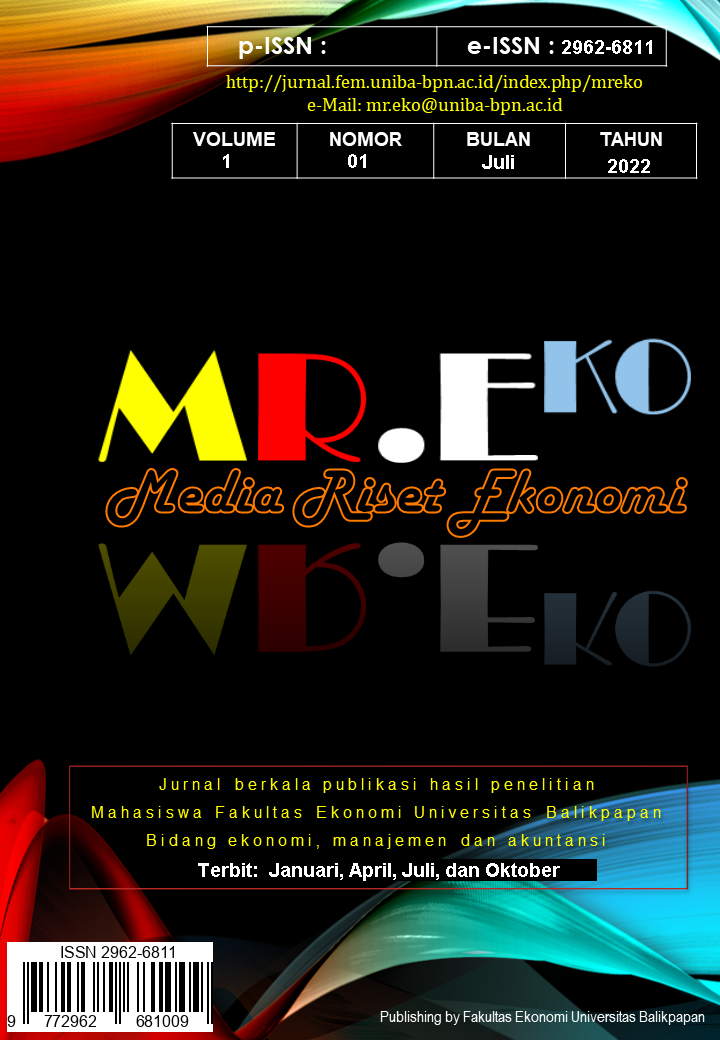 Downloads
How to Cite
Prasetyo, T., Susilowati, D., & Moorcy, N. H. (2022). PENGARUH INFLASI, KURS, DAN HARGA MINYAK MENTAH DUNIA TERHADAP INDEKS HARGA SAHAM GABUNGAN. MEDIA RISET EKONOMI [MR.EKO], 1(1), 8–12. Retrieved from http://jurnal.fem.uniba-bpn.ac.id/index.php/mreko/article/view/80